Welcome to my town!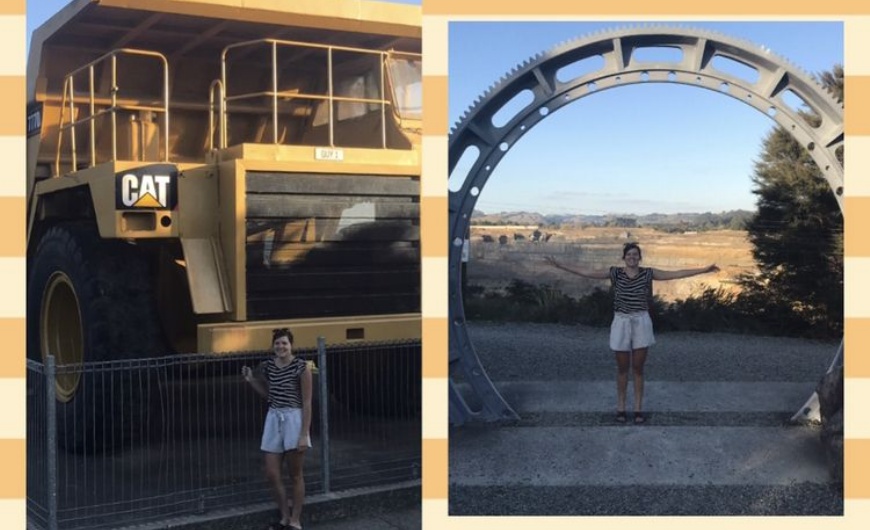 This afternoon I went on a walk in my hometown of Waihi and I thought I would show you this small portion of it.
Waihi is a small town of approx 4000 people. The main industries here are Gold Mining and farming. The Waihi Martha Mine has a very large open pit mine- it goes down SUPER deep! We also have underground mines. You have to be brave to work underground for hours a day in the mine shafts/tunnels. I remember when I worked in the supermarket in my college years and I would see the work men after their shifts come through with their faces covered in dirt and dust.
To extract the gold the miners let off dynamite explosions. The rock (known as ore) would then be loaded onto one of the big trucks and placed on a super long conveyor belts that runs for several kilometres to transport the ore to the processing plant. Here they have to remove the rock and transform the small gold portions into pure gold bars. One of the main processes to do this is by placing the ore into an acid called cyanide to remove the unwanted rock.
One day, when the gold runs out, this mine will be filled with water to make a lake (it's going to take 7 years to fill!)
That's just a very quick little bit I wanted to share with you from my hometown. Waihi also has many more old mining relics and railways, but I can't share it all in one blog! These photos are from todays walking track of the Martha Mine Pit Rim only.
Do you have any questions about my home or anything interesting that you would like to share about where you are from? I know we are from many different places. Please comment below.
Get outdoors and enjoy walking through beautiful London.
Take care,
Miss Donald X
No comments have been left yet.